06/13/2013

Improved Access and Enhanced Collaboration
Conference: De-medicalising primary mental health care
On 30th & 31st May 2013 about 180 professionals across many disciplines – psychologists, psychotherapists, general practitioners, primary mental health care workers, researchers, policy makers and stakeholders - met at the University of Limerick/Ireland to discuss the political, social and scientific challenges to improving public access to talk therapies. The event was hosted by Member of Parliament Nessa Childers (Socialists & Democrats), and organized in partnership with the Network for Psychotherapeutic Care in Europe (NPCE).
Key speakers from Ireland, Europe and the US presented papers examining the political, social and scientific challenges of mental illness and addressing ways and means of providing improved primary mental health care that offers talk therapy rather than the medical approach that currently predominates. In her opening speech
Nessa Childers
emphasised that "apart from the obvious benefits for individuals, good mental health is increasingly important for economic growth and social development in Europe. All these are key EU policy goals".
| | | |
| --- | --- | --- |
| | | |
| Nessa Childer, MEP | | Dr Declan Aherne, University of Limerick |
"Talk therapies are the most suitable form of treatment for the majority of mental health issues and could be made available at primary care level at no extra cost. In Ireland 90 percent of people with depression are currently receiving medication while the recommended treatment for depression in 70 per cent of cases is psychotherapy only. The total annual cost of psychological services at primary care level would be almost 20% less compared with the amount spent on antidepressant drugs in community drug schemes in 2012". This was the key message from
Dr. Declan Aherne
, clinical psychologist, head of counseling at the University of Limerick and one of the core members of NPCE.
Fiona Ward
, director at the HSE Dublin North East, also acknowledged that there had been a 25 per cent increase in prescriptions for anti-depressants and other psychiatric drugs in the past five years for medical cardholders. "Providing counseling and therapy at primary care level can reduce stigma, offer early intervention, reduce the number of GP visits and prevent more complex difficulties," said Ms Ward.
Examples of good practice from other European countries were presented. They showed that all European health care systems face the same challenges for the future and that there is the possibility and the need to improve services in every country. "Conditions for the work of psychotherapists in Germany are well developed, patients' direct access to a psychotherapist is assured and psychotherapy is well integrated into the medical health care system", reported
Prof. Rainer Richter
, President of the German Chamber of Psychotherapists and initiator of the NPCE. "Psychotherapists are highly qualified, but not enough use is made of psychotherapy's potential. The structures of the healthcare system lack coordination and cooperation in the care of mentally ill people.
Financial resources are not allocated efficiently. General practitioners and psychotherapists must work together more closely. The GPs have to be trained to recognize the need for psychological treatment. For patients with complex treatment needs in particular it is necessary to set up a horizontally and vertically integrated system of care", he explained.
Prof Rainer Richter, President BPtK
The conference also heard about free access to short-term psychotherapy for all citizens at primary care level in Holland. "We work close to the living environment of the patient in close connection with the doctor and social worker and we see patients in the practice and at home," explained
Prof Jan Derksen
from the department of clinical psychology at the University of Nijmegen. "We ask the GPs not to start prescribing medication before we see the patients and we have new plans for GPs and psychotherapists to treat patients in shared consultation," he said. The need for mental health services to reach out to people in areas with high levels of social deprivation and the need for first line treatment prior to medication was the focus of a talk by
Dr Jim White
, clinical psychologist who leads the primary care mental health team in southeast Glasgow."We are dealing with people who are demoralized, demotivated and not psychologically minded so we shouldn't have waiting lists and hurdles for them to cross to get to therapy," said Dr White. He stressed the importance of leaving the clinic and meeting people where they are.
Patrizia Reilly
, cabinet member in the office of the European Commissioner for Research and Innovation pointed out the chances within the EU's new funding programme for research and innovation Horizon 2020 that is currently being discussed. "Health and wellbeing for all will be one of the cornerstones of Horizon 2020, which will begin in 2014. Such an encompassing programme fits the cross-disciplinary nature of mental health research that you are discussing today" she underlined.
In effect, participants agreed on the need to move away from the medical model that is currently in place and towards a psychosocial model that follows best practice and is driven by evidence. They underlined the idea of creating a system that integrates mental health into different services. It was put forward that pathways are not always sufficient clear. In order to make collaboration accountable, it also becomes important to understand how the different orientations within psychotherapy work and to develop in the direction of a unified theory.
Participants emphasized the need to pilot a project by the European Commission on improving access to psychotherapy across a number of European states and underlined the will to achieve enhanced collaboration across professional groupings in the future.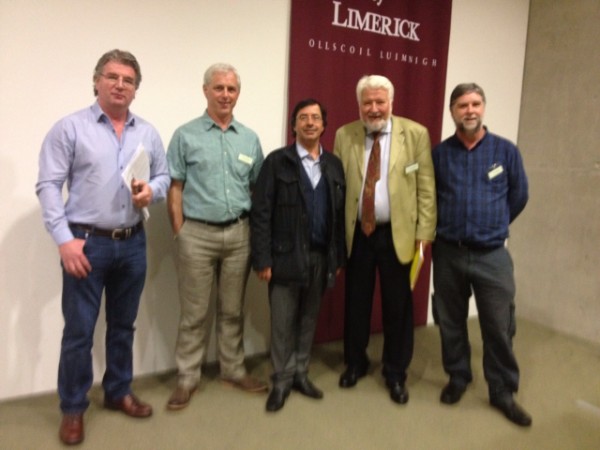 Downloads
Conference Presentation Nessa Childers, MEP
Conference Presentation Dr Declan Aherne, University of Limerick
Conference Presentation Prof Rainer Richter, President BPtK
---