10/14/2015
Conference report: European Health Forum Gastein 2015 - Securing Health in Europe
The 18th European Health Forum (EHFG) was held from 30 September to 2 October, 2015, in Gastein, Austria, and was titled "Securing healthcare and sustainability, strengthening healthcare systems." Nikolaus Melcop took part on behalf of the Federal Chamber of Psychotherapists (BPtK) and the Network for Psychotherapeutic Care in Europe (NPCE).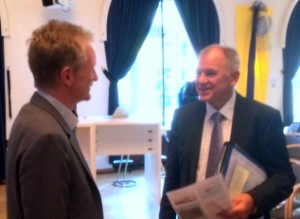 In the course of the event, Mr Melcop had the opportunity to speak personally with Vytenis Andriukaitis, EU Commissioner for Health and Food Safety, and explain the need for improving psychotherapeutic care across Europe. In addition to addressing the overall supply shortage of such care that already exists, the European states must in particular establish psychotherapeutic services for the high numbers of mentally ill refugees arriving in Europe. Commissioner Andriukaitis affirmed this assessment and emphasized the important role of psychotherapeutic care in these circumstances. He assured Mr Melcop that these problems would be addressed by the EU Commission, and that efforts for improvement would be supported.
The entire conference was shadowed by the sharp increase in refugees arriving in Europe. Prof. Helmut Brand, President of the EHFG, stressed that the situation is particularly about European healthcare systems being additionally burdened by the ongoing influx of asylum-seekers. Prof. Brand summed up the discussion: "It's a matter of primary medical care in the short term, caring for post-traumatic disorders – particularly among children – in the medium term, and adapting our healthcare systems to increasing migration in the long term." Many presenters emphasised the European vision founded on solidarity and shared values. The principle of equal access was asserted as a primary objective. New technologies, in particular e-health practices, were identified as ways to facilitate this, and to work efficiently with resources.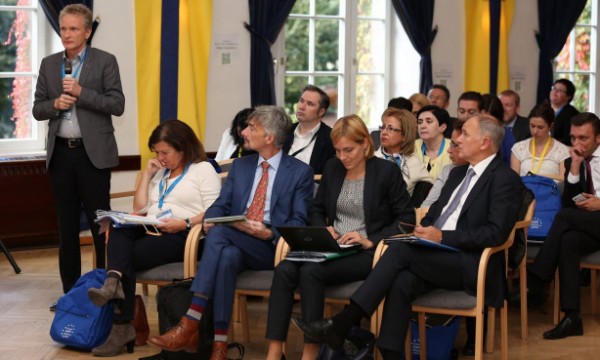 Models and ideas for improving the provision of healthcare were proposed, such as a future scenario in which each individual would manage his or her own health, thus assigning the responsibility of ownership, control and disclosure of personal health information to the individuals themselves. During the forum, the European Health Award ceremony was also held. This year's winner was the MiMi Project (Healthcare with Migrants for Migrants).
For further information, please read the correponding
EHFG Press Releases
---